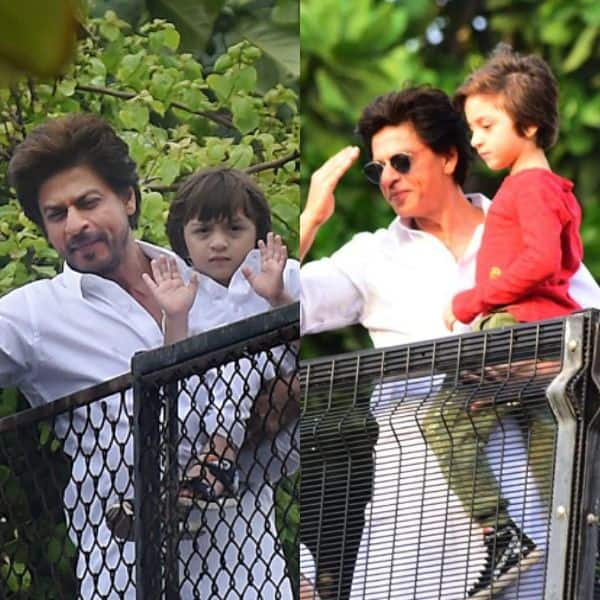 Shah Rukh Khan and Gauri Khan's little lad, AbRam is one little munchkin. The six-year-old is the apple of everyone's eye at Mannat. Be it Shah Rukh, Gauri, Suhana or Aryan, being the youngest in the family, AbRam is always the center of everyone's attention.He is just the mini version of Shah Rukh in every sense, despite being like Salman Khan in his mannerisms. Shah Rukh had once revealed on a show that AbRam was just like Salman as he goes around saying, 'I love you' to every girl.
Well, we would like to credit his father for this quality though as he is the 'King of Romance' after all. There's no doubt that AbRam has inherited his daddy's most loveable quality which is that of being able to charm everyone. AbRam is literally just like his father and Shah Rukh himself proudly calls him mini-me (mini SRK), and we couldn't agree more.
Also, SRK never kept AbRam away from the media but that doesn't mean he is always in the limelight either. But the 53-year-old superstar has made sure to bring AbRam out at the balcony with him to meet and greet the media and fans on special occasions over the years. Shah Rukh's diligence with introducing AbRam to the media has been quite endearing actually. We have literally seen the little cutie grow up from being adorable to good looking and handsome. He even has a wise expression on his face these days and we are bowled over. Here's a look at AbRam's transformation over the years (from the famous balcony under which hundreds have always waited to catch a glimpse of King Khan)
2015
AbRam was born in 2013 and Shah Rukh seemed a little hesitant in letting the media see him initially. But when he did, we knew why he had been hiding away his super cute son from all the media glare. We couldn't help but marvel at how much AbRam resembled Shah Rukh. Those bangs (hairdo), his eyes, his smile and those dimples – he looked just like a copy of SRK. It was Shah Rukh's 50th birthday and look at the cutie-pie, Abby, wondering who all these people are.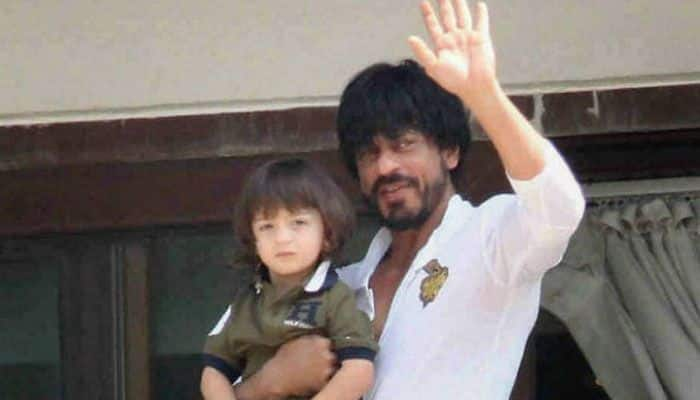 AbRam Khan | Shah Rukh Khan |
2016
And since 2015, Shah Rukh made sure to get along his mini version with him to the balcony whenever he would make an appearance – be it Eid or his birthday. This one's from 2016's Eid. Look at him all grown up and waving cutely to the fans gathered outside Mannat. Look at the toddler, twinning with daddy and wishing everyone on the occasion of Eid!
AbRam Khan | Shah Rukh Khan |
2017
With time, AbRam now knows that his daddy is famous. Shah Rukh doesn't mind bringing out AbRam time and again as he loves to bring out his mini version and greet fans. On the occasion of Eid back in 2017, Shah Rukh greeted and wished his fans with AbRam in his arms. Look at the way they are twinning yet again in a white kurta and blue denims! Like father-like son, no?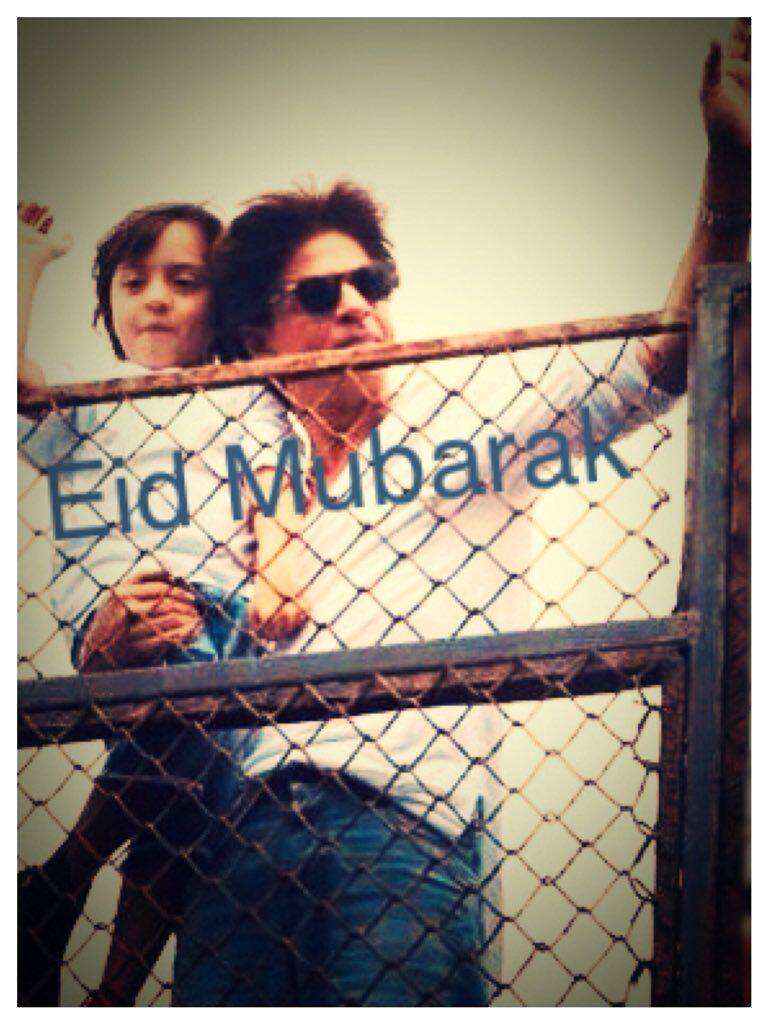 AbRam Khan | Shah Rukh Khan |
2018
Shah Rukh loves spending time with AbRam. No, don't get us wrong, he loves Aaryan and Suhana equally but the father of three had earlier revealed that Aryan wants to be on his own while Suhana is shy. AbRam is the only one who is outgoing amongst the three. And hence, we spot SRK with his youngest son more often. On Shah Rukh's 53rd birthday last year, he had yet again brought Abby (don't mind the nickname) to address the fans and thank them for their wishes and all the love.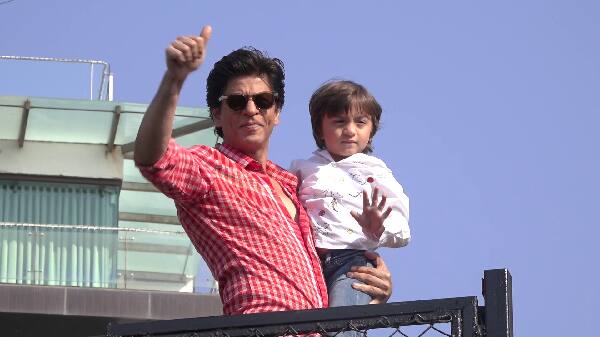 AbRam Khan | Shah Rukh Khan |
2019
Both Salman Khan and Shah Rukh Khan have fans waiting odd hours outside their homes, hoping to see their favourite star at some point. This year too, on Eid, both the superstars came out in their balcony to wish their fans on the happy occasion. The Zero star looked devilishly handsome in a white pathani suit while AbRam kept it simple in a red jumper, cargo pants and black shoes. And by the look on Abby's face, we can say he is overwhelmed by the number of people gathered. Cute!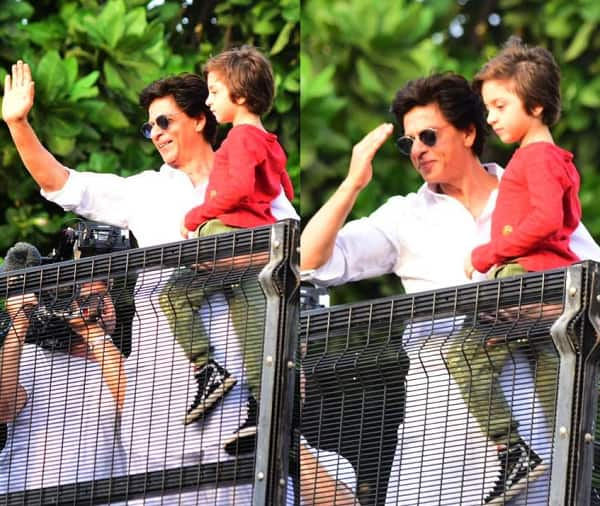 AbRam Khan | Shah Rukh Khan |
We also noticed that AbRam has grown taller and thinner over time. But he still looks just like his father. Aryan too resembles Shah Rukh a lot. Their jawlines and eyes are identical to say the least and we are glad to have two copies of SRK who would continue to spread his charm and romance forever, or so we hope.
So, what do you think about AbRam's transformation over the years? Remarkable, right? Stay tuned to BollywoodLife for more such features.