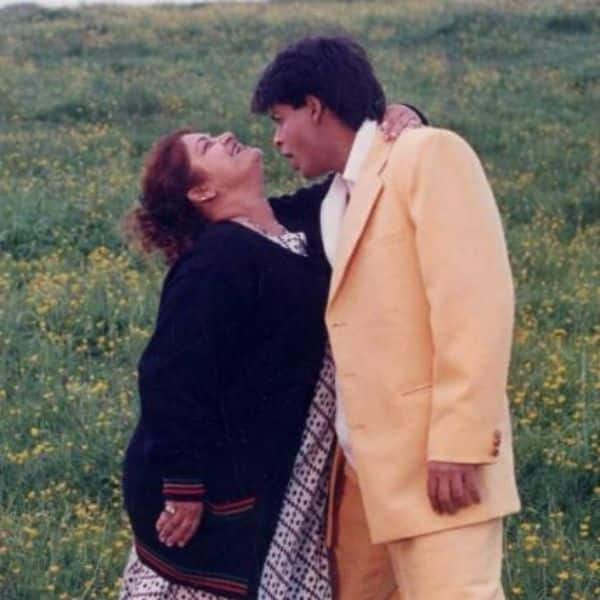 The year 2020 is turning out to be the worst for Hindi film lovers. We are losing talents one after another. Bollywood's famous choreographer Saroj Khan has left us for the heavens above. The lady has had one of the most distinguished careers in Bollywood. She started her career as a child artiste and later moved on to becoming a choreographer. The lady worked under the mentorship of B Sohanlal whom she was also married to for a while. Saroj Khan has given actresses like Madhuri Dixit, Sridevi, Kareena Kapoor Khan songs to cherish. Like Kareena Kapoor Khan, she made the Bollywood heroine.
Fans are sharing all throwback pictures of the lady. There is one circulating where we can see her with Shah Rukh Khan in Switzerland. She is showing the heroine how to give her expression. The lady was known as the queen of dancing and expression not without a reason. Saroj Khan has worked quite a bit with Shah Rukh Khan. Saroj Khan is the one who has given Shah Rukh Khan his now iconic arms open pose in Baazigar. It was in the song, Baazigar O Baazigar. She said in a throwback interview, "We were shooting Baazigar in Mauritius. He (SRK) takes name of land and sky, there's a back shot and he opens his arms. Then he turns and reveals name on his chest by opening his shirt. I gave him this action there."
Saroj Khan born as Nirmala Nagpal moved to India after the partition. She had been unwell for a while suffering from breathing issues. Saroj Khan was admitted to the Guru Nanak Hospital in Bandra on June 17. She is survived by her son, Raju Khan and daughter Sukaina Khan. Her body has been buried in a cemetery in Malad. Rich tributes are pouring in from all celebs.